What's up y'all, here's a quick update on what happened last friday at a2f! We started off the night with an amazing home-cooked meal of course, had some quick icebreakers, and heard a talk from Pastor Andy titled "More than a Book".
Pastor Andy provided a very clear defense of the Bible as a text that has been proven to be reliable, through many rigorous tests that are often applied to other historical texts. He went through the archaeological evidence for biblical events, the amazing number of existing manuscripts, outside sources, as well as internal evidence – if you want all the juicy details you can sign up for office hours with him :).
He brought it home for us by explaining how the Bible is more than just a historical text, but that it has a very personal message for each person. He ended the night by extending the challenge for us to familiarize ourselves with the Bible and allow it to be something that addresses us each day!
Following his bible study, we proceeded with our photo scavenger hunt! We split into teams and spent the next hour going around campus, looking for landmarks, and taking photos/videos that were wacky, wild, goofy, and even scary…ooooOOOOOooOOOo…. Some of the prompts we had were: "Celebrity Appearance", "Scary Movie", "Wizard Duel", and more!
Afterwards we had a great time sharing our photos, making fun of one another, and enjoying the solo performances of "Let it Go". Here are some of the best ones from the night!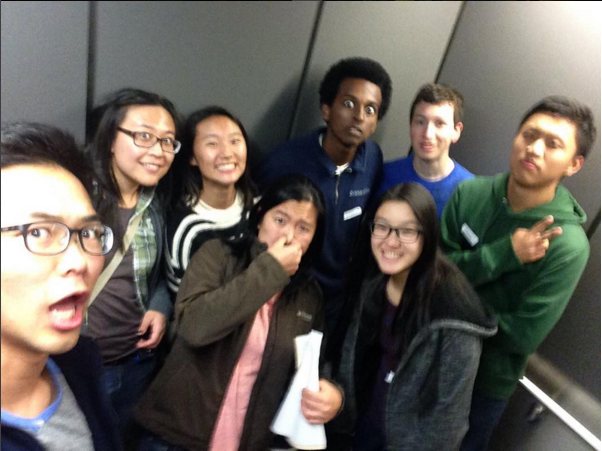 There were a couple of winning videos too, here for you to enjoy!
"Celebrity Chase" (C'monnnn you like it!).
Winners of "Scariest Video", and "Best Male Scream":
"Kung-Fu Scene" – Winner of "Most suspenseful ground punch"
Doesn't this look like SO MUCH FUN!?!? Looking forward to seeing you next time!