This past weekend at a2f was WILD to say the least! Here's a quick recap:
We started off with a special talk on Science and Faith to wrap up our "More Than…" series. AJ walked us through some of the major scientific discoveries of the modern era and showed us how, contrary to popular belief, it is possible to accept science and still have a thriving belief in God and Christianity. In fact, many of these scientific observations provide good reason to believe that there is a God who is all-powerful, timeless, outside our universe, and who carefully designed the world we live in. Interested in finding out more? Join us sometime!
We followed up the talk with our very first a2f Gym Night!
We enjoyed friendly but fiery competition in 3 unconventional sports: Dodgeball, Handball, and Braveheart. At the end of the night, Team 4 (Orange) came out with aslightly controversial win. Nonetheless, everyone walked away with a smile, and we wrapped it all up with some good ol' basketball and volleyball.
The following day was Halloween so to celebrate we gathered at Wedgewood for a friendly cooking competition: a2f UW's first IRON CHEF – Halloween edition!! We had a great time incorporating avocados into various dishes and teams had to get creative using whatever ingredients we had in our fridge and being limited to a single cooking method (oven, stove, skillet).
We had our own cast of characters join us!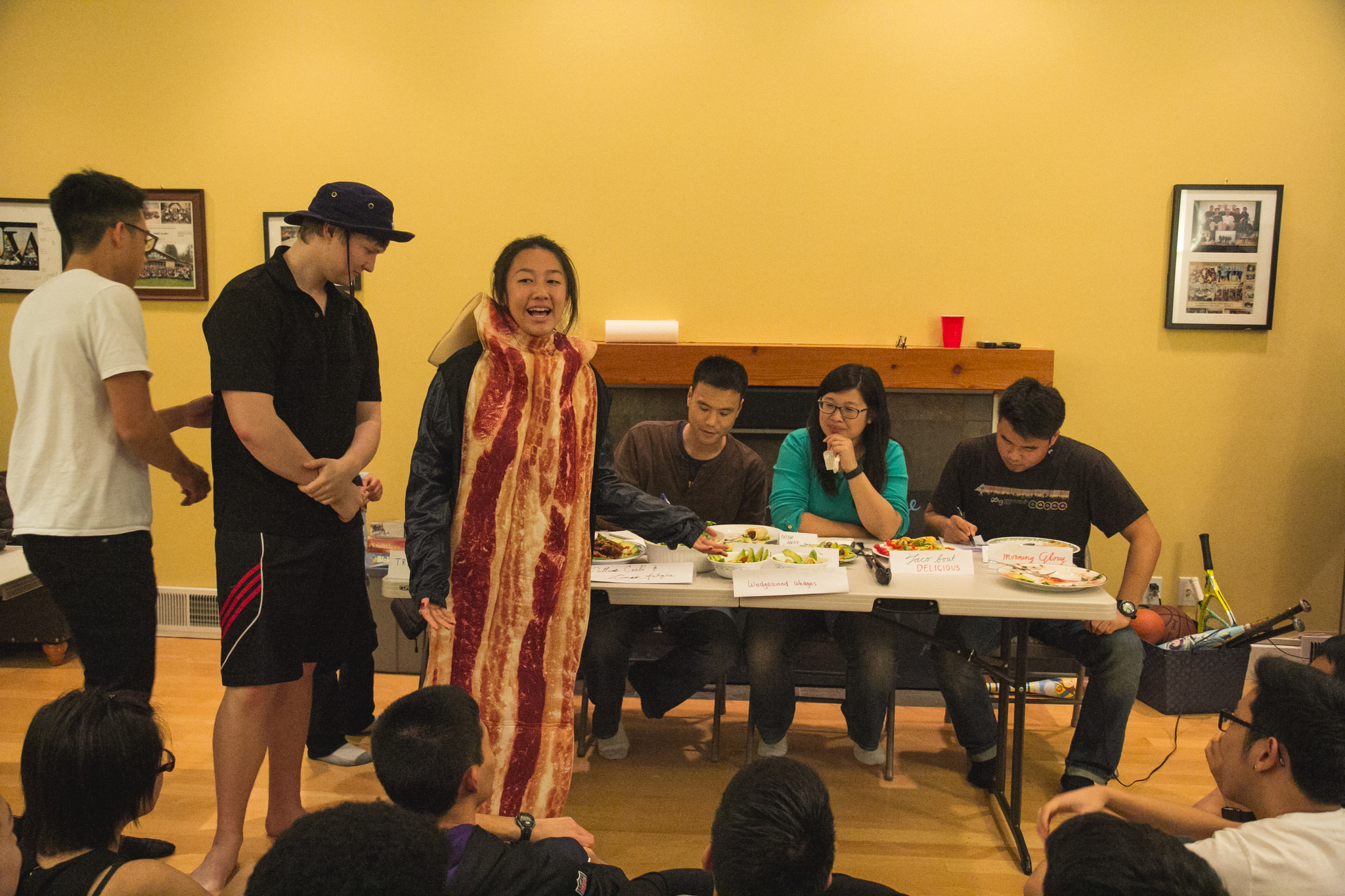 One of Abe's college friends also happened to be a former chef at many high-end restaurants in the Bay Area and he, along with P. Andy, Amy, and Josh, judged the dishes. Kudos to the team who had to cook their food in the oven in an hour.Afterwards, we left the night open for people to hang out and relax, and the atmosphere at Wedgewood was amazing. We excitedly tasted each other's dishes, people passed around smoothies and ice cream for dessert, and Amy baked up some delicious banana and chocolate bread pudding. There was some intense pumpkin carving happening in the dining room and the end products were on point! In the living room we had some passionate games of Avalon and Settlers of Catan going on as well. And a group of guys decided to uphold time-honored traditions and hit the neighborhood for some trick-or-treating. The house was full of laughter, excitement, smiles, and much warmth. (:
This weekend was packed with memories, to say the least. What could be a better way to spend Halloween weekend than with God's word, good friends, great food, and a little bit of competition?
Here's the video recap!