It's the most wonderful time of the year… Yes that's right it's time to deck the halls, put up the fresh cut 8-foot noble fir, and hear those sleigh bells ring-a-ling because it's Christmas time! But Christmas time does mean finals but finals also means that fall quarter has come to a close as the students pack up and get ready to go home. A lot has happened this quarter here at A2F and it seems like it was almost yesterday that everyone was arriving on campus for their first day of classes. But if you want to read about those things, you can see the other posts on our blog. Let's check out what happened this past month of December!
While the weather outside was kinda frightful, the A2F gift exchange part was quite delightful. We kicked off the evening singing some Christmas songs together followed by a Bible study on the Christmas story.
Later on, we had our gift exchange where we split up into teams and played The Price Is Right – A2F Christmas Edition to compete for first dibs at the gifts. But of course, it is a gift exchange and we're going to do some exchanging so we had a series of Minute-To-Win-It competitions where the winning team earned special gift exchange powers. Let the Reindeer Games begin!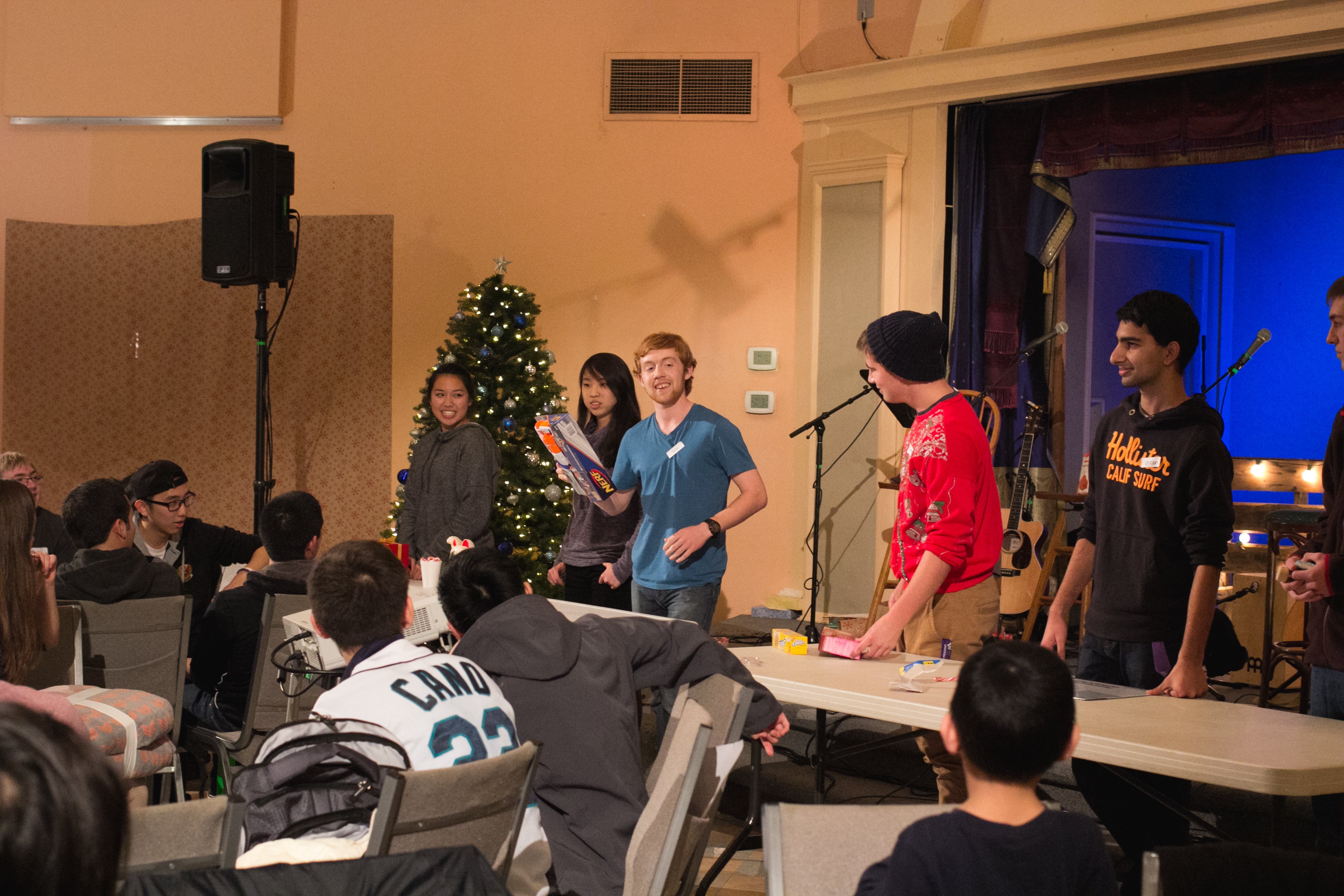 And just because we wanted to, we had our own team v team freestyle rap battle on the topic of Christmas.
And also just because we wanted to (and because it's Christmas), we had a wrap battle. This one was the real deal.
At the end, one team walked away with first place making them champions of the first ever Reindeer Games.
All in all, it was a pretty spectacular night of fun and fellowship with one another and at least for me personally, no better way to begin the end of the quarter. But alas, onto studying for finals and getting ready to return home for the break. It's been quite a ride this fall quarter a we're pretty excited to see what God's going to do in the next one and 2016 as a whole. Hope you can join us for winter quarter!
P.S. As a special treat for reading this post all the way through or just scrolling right to the bottom, here's a video made by the A2F staff! Merry Christmas!